Today we bring you the fountain at one of the most beautiful palaces of Germany: Sanssouci Palace in Potsdam.
Potsdam
Potsdam has a lot of castles and palaces. And parks. And water. Lots of water. The river Havel runs through this picturesque city. Not only that: there are interesting museums, lots of monuments, a couple of belvederes, and there is the Holländisches Viertel or Dutch quarter. You can image we felt right at home here 😉 .
When you're doing a Berlin trip and you have some time on your hands, then Potsdam is absolutely worth a visit. It even has it's own Brandenburger Tor!
Sanssouci Palace and park
Potsdam is best known for its Sanssouci palace. "Sans souci" is French and means "without worry". King Fredrik the Great himself designed the rococo summer palace. It was built 1745 – 1747.
But Sanssouci is also a world-renowned park with its terraced grounds with vineyards, and it was added to UNESCO's World Heritage List in 1990. Here, for more than 250 years, beautiful garden design has been united with works of great architects and sculptors of their times.
The park grounds measure over nearly 300 hectare, and this is (amongst other things) what you can find there:
Sanssouci castle
New castle
Bildergalerie
Charlottenhof castle
Friendskirche (church of peace)
Orangerie castle
Chinese house (see picture)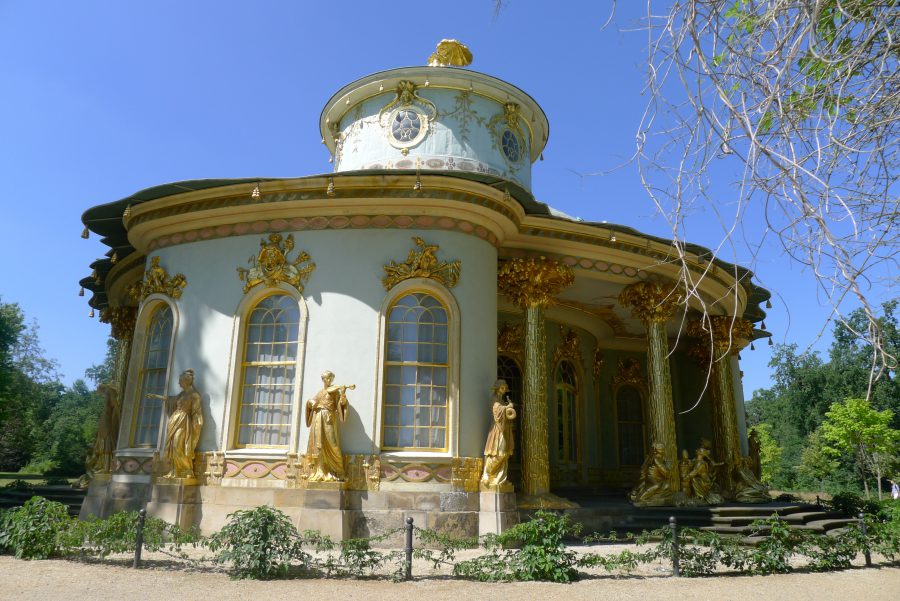 The fountain
Right in front of Sanssouci you can find a basin with a fountain. It is appropiately called großen Fontäne, or big fountain. It reaches a height of 40 metres. On the Ruinenberg nearby, the water for the main fontain of Sanssouci is stored in a 10 million liter retention basin. Through the pumping station in the Breite Straße, the water flows to the fountain.
This fountain (and all others in Potsdam and Berlin) is only operational during the so called Berliner Brunnensaison. The Potsdam / Berlin fountain season usually starts around end of March, begin of April, and lasts until the end of October. All depending on the weather of course.
Did you know that Berlin has around 300 fountains and other water ornaments? We'll show you some of them later this year.
Video
Location
Fountain at Schloss Sanssouci
Maulbeerallee
14469 Potsdam
Germany
52°24'07.9″N 13°02'19.1″E
52.402197, 13.038649