This structure is called Normannischer Turm (Norman tower) and is located on top of the Ruineberg in Potsdam. It is what gives it its name. This ruin is actually not really a ruin, but built as one by Master Builder Georg Wenzeslaus von Knobelsdorff. It's located right next to a big water tank with a capacity of around 7600 m³ , that was meant to store water needed for the fountain in front of Sanssouci Palace.
Normannischer Turm
At the north side of Sanssouci castle you can find the Normannischer Turm. The lands around the former Hünenberg hill had been the partridge and pheasant hunting grounds of King Frederick William I of Prussia. But when his son Frederick the Great began the erection of Sanssouci Palace in 1745, he needed a lot of water for all the water features in his park. Of course he not only had a large water tank built, but had it decorated with ruins and a beautiful park designed by Peter Joseph Lenné.
Though the king poured quite some money into this project, it was not successful because of the technical ignorance of his workers. After many years of effort, Frederick's dream of fountains was finally given up in 1780. The water tank and the ruins however are still there.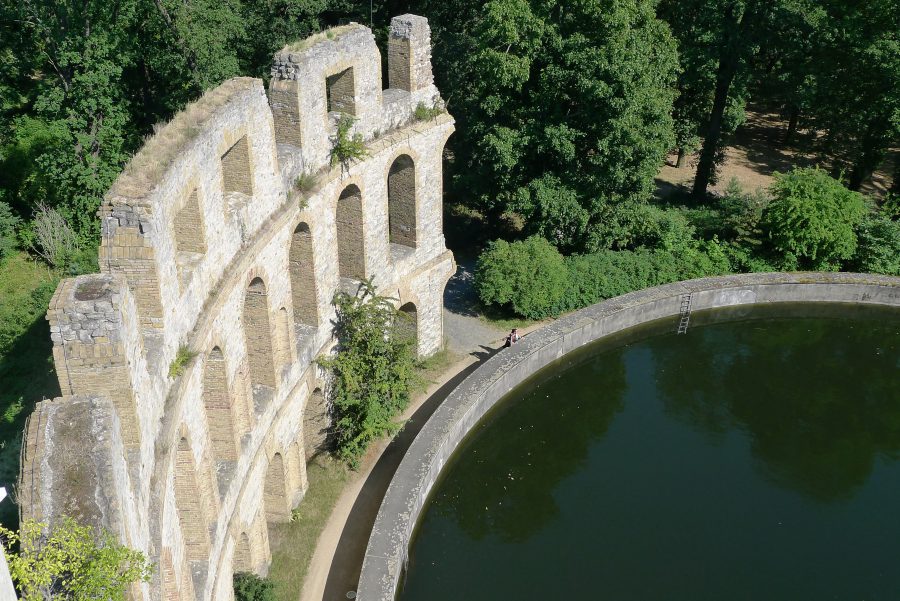 And of course the fountain at Sanssouci palace is now operational too, thanks to the invention of the steam engine. From 1841 to 1843, a building was erected especially for the steam engine on the shore of the river Havel. Disguised as a mosque, it was designed by Ludwig Persius.
Belvedere
For a small fee you can climb the 23 metre high tower of the Normannischer Turm, where you have a magnificent view over Potsdam. On clear days you can even see the television tower (and other buildings) of Berlin!
Video
Location
Normannischer Turm
Ruinenberg
14469 Potsdam
Germany
Closed on Monday.
52°24'42.8″N 13°02'30.8″E
52.411882, 13.041878